'How can I spy on someone's phone with just the phone number?' This question is often asked; however, rarely answered. It's very easy to clone a phone, and there're several ways to do it. Things get tricky when we talk about intercepting a phone using just the target number.
Doing a quick surf on the internet might show you countless results. Yet, so many of those apps and tools you think are genuine are actually not. Sit back and relax! We have got the right tools for you.
Perhaps you suspect your husband is cheating on you, or you're concerned that your kid might be facing cyberbullying. In all these cases, it will be extremely helpful to have a reliable app to track their phone activities.
Part 1: How to Intercept A Cell Phone with Just Phone Number Using Neatspy
It's 100% possible to hack someone's phone with just their phone number. With Neatspy, you don't even need advanced computer skills. All that is required of you is to have a basic understanding of the computer and the Neatspy app.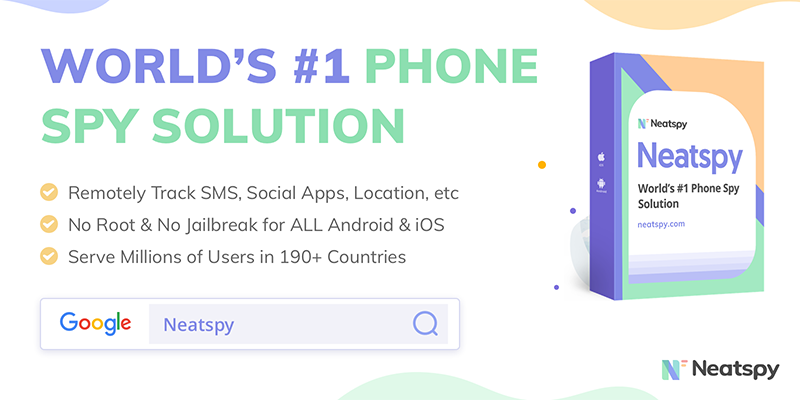 Neatspy is a phone surveillance app the likes of which you've never seen before. With Neatspy, you can access every bit and byte of information from the target phone. And the best part is, you can do it remotely anywhere, anytime.
With over 30 monitoring features, Neatspy gives you control over the target's device. Because of these features, legitimacy, and reliability, renowned media outlets, including the BBC, The New York Times, Forbes, TechTimes, etc., can't stop talking about it.
All you need to do is sign up for a free Neatspy account and get a subscription plan that suits your need. If you don't believe me go ahead and check Neatspy in action. Click here to try the free demo.
ALSO VISIT: How to Find a Phone Number Location Without Experience
Part 2: What Can You Access on The Target Phone Using Neatspy
It can do even more than give you the target device's data with its tons of features. Here are some of its features:
Call Monitor
Call logs can be enormously useful. They tell you who your loved ones are talking to or who's calling your spouse or employee. Neatspy provides the entire call logs of the user. Each record of a call is accompanied by the contact number, name, date, time, and call duration. You can also record real-time calls for future reference.
Social Media Spy
Neatspy allows you to keep tabs on loved one's social media activities. Including checking private and group messages, exchanged media files, see the people they are talking to, what they're talking about, posts, and much more. Some of the social media networks are Facebook, Snapchat, WhatsApp, Instagram, Viber, etc.
Location Tracker
If your spouse has been lying about his whereabouts, you can use Neatspy to view present and past GPS- and WI-FI-based locations. You can track his movements with timestamps and see addresses and geographical coordinates.
Track Browser History
Mostly used by parents to ensure their kids are accessing only age-appropriate content. As an employer, you can use the information to verify whether your employees are up and up. Find out which site a person frequently visits. Read a mini-description of the visited site and get details like frequency, timestamps, and bookmarks.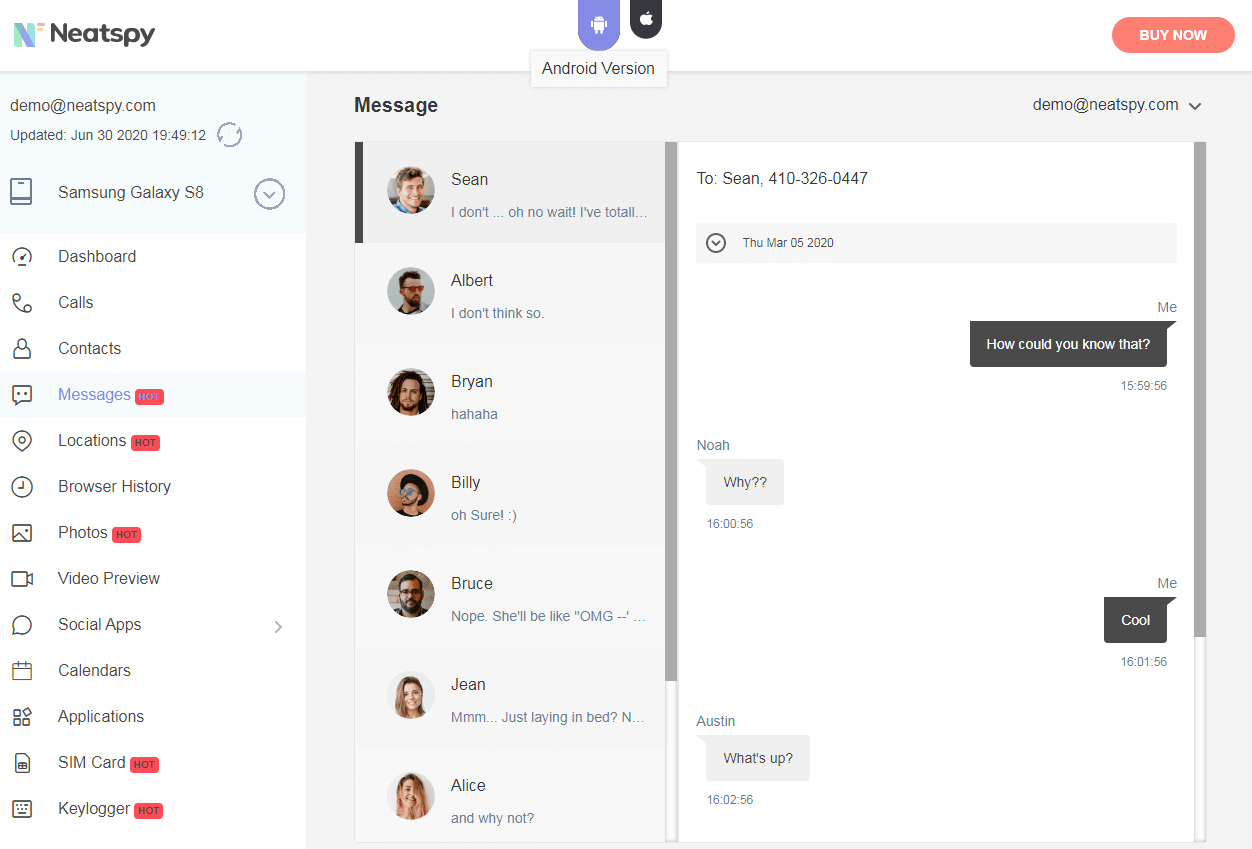 Can I Intercept A Cell Phone Using Just the Target's Phone Number?
Messages Interceptor 
You can learn more about someone's interests and life in general by reading their text messages. Neatspy allows you to intercept target incoming and outgoing messages, including deleted ones. Find sender/ receiver contact number, names, and pictures. Each conversation has a timestamp attached. Even better, you can download multimedia messages, if any.
There are many other and cooler features like geofencing alert, SIM location tracking, keylogger, etc. But I will not spoil the fun part for you. You can check out the pleasant surprise yourself by signing up with Neatspy.
How Does Neatspy Work?
For the Neatspy iOS solution, you don't need to touch or jailbreak the target phone physically. You can remotely configure the iPhone and set it up for monitoring once you verify the target's Apple account credentials. Using these credentials, Neatspy will use iCloud Backup services to upload data on servers in an undetectable manner.
If you want to spy on an Android device, you must install an app into it. However, it is not due to any technology limitation of Neatspy. It is merely due to the design of Android phones. The good news is the app, once installed, runs on stealth mode. He will never see the app in his app drawer.
The app's service runs secretly in the background. Occupying a memory space of only 2MB, Neatspy neither heats the phone nor drains out the battery quickly. Therefore, you don't have to worry about the other user finding out.
Part 4: Things That Will Make You Adore Neatspy
Neatspy is a reputed app used by millions of users in over 190+ countries.
The app allows you to monitor the target device remotely without installing any app on your phone. Neatspy dashboard opens in any web browser, anywhere in the world.
Neatspy is a legit software that highly respects its client's privacy. It doesn't store or give anyone access to customer's and victim's data.
The app uses stealth mode technology to remain undetectable. It doesn't work directly with the user's iPhone; instead, it uses the iCloud backup feature to configure the targeted mobile phone.
Unlike competitors, you can enjoy the complete functionality of Neatspy without rooting or jailbreaking the device, including the tracking of third-party apps.
The number of features that one gets at this price is astonishing. Their pricing plans are unbelievably cheap, and on top of that, they give a considerable discount.
Neatspy has a 24/7/365 professional customer support system that enables you to get quick answers to any queries you might have.
Conclusion OF Can I Intercept A Cell Phone Using Just the Target's Phone Number?
Getting access to someone's phone is relatively simple and easy. If you follow the above process, there will be no need to go to great lengths to determine what someone is hiding. The detailed description shows how to use the app to track calls, messages, social media, and multimedia files secretly with just their phone number. Neatspy offers you the best phone monitoring app for all your spying needs.