Hey, Guys welcome to thetechxplosion, You might be thinking about which Linux Distro is the best to get started in 2021.
And which is the most beautiful Linux Distro of 2021. So Today I will tell you about Top 6 best wonderful and beautiful Linux Distros of 2021 that you can start using.
It is the most beautiful Mac OS version of big Sur that is DEEPIN OS 20. This is very close to the user interface of the latest Mac OS 11 BIG SUR.
DEEPIN OS version 20 usés the latest version of DEEPIN Desktop environment which is a fantastic and eye-pleasing Linux Distro that provides an immersive Mac os look like user experience.
Every element of DEEPIN OS has been taken care of and crafted very well and looks like a big serve.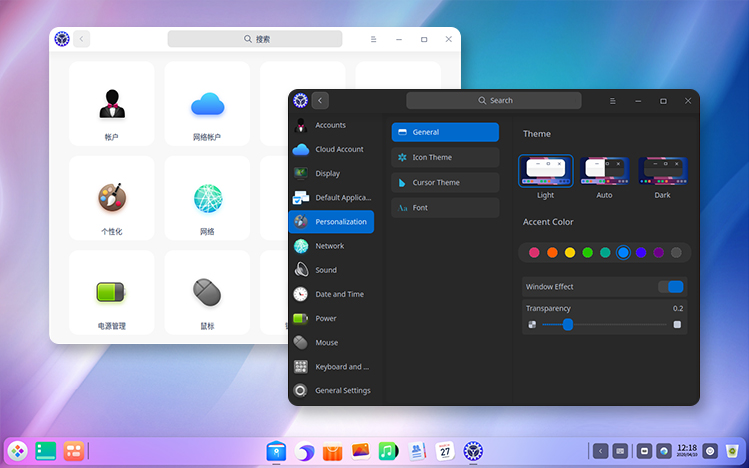 From Doc menu to launchpad, everything looks fantastic. The background blur with a crisp text makes DEEPIN OS a super stunning Linux Distro.
You may find the customizable Doc along with that you can change the way it should look by changing 8 different desktop modes.
DEEPIN Desktop email allows you to customize the look of the desktop by changing the system themes, wallpapers and more.
One of the Favourite of DEEPIN OS version 20 is the notification center which looks incredible. Though it doesn't look like the revamped notification center of Mac, OS, and pixer but still it does look awesome.
When it comes to system applications of deepin OS, it comes with all basic necessary tools like video player, finder, office toolkit, and much other useful application which helps you in getting started with DEEPIN OS very easily.
DEEPIN OS uses a Debian package mechanism to install or remove any software packages. Also, there is an app store available where you can find out thousands of applications to download.
WANNA KNOW : How To Dual Boot Kali Linux v2020.2 With Windows 10
ELEMENTARY OS is a reliable and robust Linux Distro. That looks very similar to Mac OS Mavericks. This Distro is designed to look like a retro Mac Os and provides a cutting edge user experience.
ELEMENTARY OS is based on Ubuntu ITS with a pantheon desktop environment. In one word, ELEMENTARY OS is a combination of Ubuntu with a pantheon desktop environment along with that you would get standalone features from elementary developers.
When it comes to the user interface this version will definitely remind you of the Mac OS version. Doc, applications menu, calendar, and system control and more everything look magnificent.
The built-in system theme applied for all default applications gives you a stunning mind-blowing visual user experience. All the default applications that come with the ELEMENTARY OS are fantastic.
When it comes to multitasking using the hard corners control option, you can view all the running applications. These hard corners give full power to the end-user that helps in quickly doing some actions by hovering the cursor to the edge of the screen.
Since this digital is based on Ubuntu LTS you use APT and Debian package manager to install or remove the packages. Also, there is an app store available to download thousands of useful applications. Elementary OS is a super stunning Lexus show that can be used for coding to general purposes.
Manjora is one of the best arch-based next Distros that provides a high-performance desktop experience for both laptops and Pc. If you are coming from Windows 10, MANJARO is going to be the best supplement for your necessities.
The built-in layout application lets you choose a different layout of the desktop that makes the user experience more flexible. The standard normal layout explicitly looks similar to windows UI. It features a start menu where you get to see all the installed applications in the system, the taskbar as well as system controls.
MANJARO also has a huge collection of software available in the Arch repositories. You can either use a command-line tool called Pacman to install any package or you can use a graphical tool to download and install any software. Best Linux Distros
The team of MANJARO has simplified the way of installing third-party software in a much easier way meaning you don't need to download any software from the browser and extract it to install instead. Instead, they are already made available from the software center. That would be pretty useful for beginners to download and install any package along with the dependencies very easily.
One thing that people like about MANJARO is that it provides a way to install any kernel right from the built-in system application called MANJARO settings.
WANNA KNOW : How to Solve This Error Unable to boot: Kernel requires a x86-64 CPU, but only detected an i686 CPU

POP OS is the optimized version of Ubuntu LTS to the hardware that brings a super-fast performance to the end-users. System 76 is the team behind made this next distro and delivers a minimal user experience.
When it comes to the user interface, POP OS comes with a finely tuned gnome desktop. The overall user interface looks very natural and the default POP theme has applied throughout the system the looks fantastic.
POP OS uses a mint accent colour throughout the system combined with a modern font that attracts the end user. Also POP OS comes with a built-in dark theme and nightlight that can be used at night times.
The default gnome experience on the top of POP OS is much faster than other gnome-based Distros. Everything is super snappy, the animations are quicker and transitions are a lot quicker throughout the system.
When it comes to default applications POP OS features the most of the necessary applications like Firefox, Mail, Office Toolkit and more. Some of the useful applications for new users are included such as USB flasher, Any package Manager and more.
Since POP OS is based on Ubuntu, we can either use an APT or Flatpack mechanism to install any software from the terminal. Another way of installing applications in POP OS is from the pop shop, the pop shop is a graphical application that hosts a ton of useful applications and can be installed with one simple click. Overall the POP OS is the faster and powerful Ubuntu-based desktop distro with a gnome desktop that provides an impeccable user experience to the end-user.
GARUDA LINUX is based on the arch that features a super sleek user interface and incredible features that come preloaded out of the box. This Distro comes in different desktop environments like KDE plasma gnome-desktop XFCE and more.
KDE plasma version comes with an amazing theme out of the box that looks eye candy. Along with that the developers have added a blur effect throughout the system and the super fancy animations that flow throughout the system attract the user while navigating the system UI.
In other words, it is a well-customized KDE plasma with a beautiful theme. Apart from UI, this digital features a BTRS file system instead of XT4. BTRS is a copy on writing a system intended to address various weaknesses in current Linux file systems. The primary focus points of this Distro include fault tolerance repair and easy administration. Best Linux Distros
This Digital offers tons of features that require a separate full review video. A few of them include it comes with automatic snapshots out of the box using a time shift go to the settings manager to tweak the system and lot of GUI tools that are pre-installed.
Since this Distro is based on an app manager to download or update the packages. Overall GARUDA is a rolling Linux distro that receives the latest software from time to time and keeps your system up to date from naive users to beginners, anyone can use this Distro for their workflow.
This is a very favorite and the most user-friendly popular Linux distro UBUNTU. UBUNTU is one of the best Linux distros for getting started into the Linux operating system. This Distro has gained huge popularity in the Linux industry and thanks to the growing community of UBUNTU for working immensely to improve the system. Best Linux Distros
UBUNTU comes with gnome as a default desktop which looks very minimal and provides a super-fast lag-free user experience. Throughout the system, while navigating, you may feel the OS seems to be optimized better in the latest version. Along with the gnome desktop, you do get a GTK based application such as a Thunderbird mail, Firefox browser, Office Toolkit, Media players, and more.
All the basic pre-installed applications let you get started working with UBUNTU Linux. Since UBUNTU is based on Debian you can use the APT package mechanism to download the software via terminal. Another way to download software is through the app store.
WANNA KNOW: How to Solve This Error Unable to boot: Kernel requires a x86-64 CPU, but only detected an i686 CPU
UBUNTU app store provides a ton of free applications that you can download for free. Overall UBUNTU comes with a long-term release meaning once you install the software on your computer. You will able to get the software and security patches 4 up to 5 years. From basic users to high-end users UBUNTU is a sweet spot to get into exploring Linux.